Arnside Sailing Club Newsletter April 17
Welcome
Welcome to the Arnside Sailing Club newsletter. The sailing season is already underway. We are hoping for an even better season than last year. As a result of initiatives such as the cadet programme, club membership has more than doubled in the last five years.
Sailing Programme
The sailing programme for 2017 showing dates when safety boat cover is due to be provided can be downloaded from the website. Dates for the cadet programme are yet to be finalised.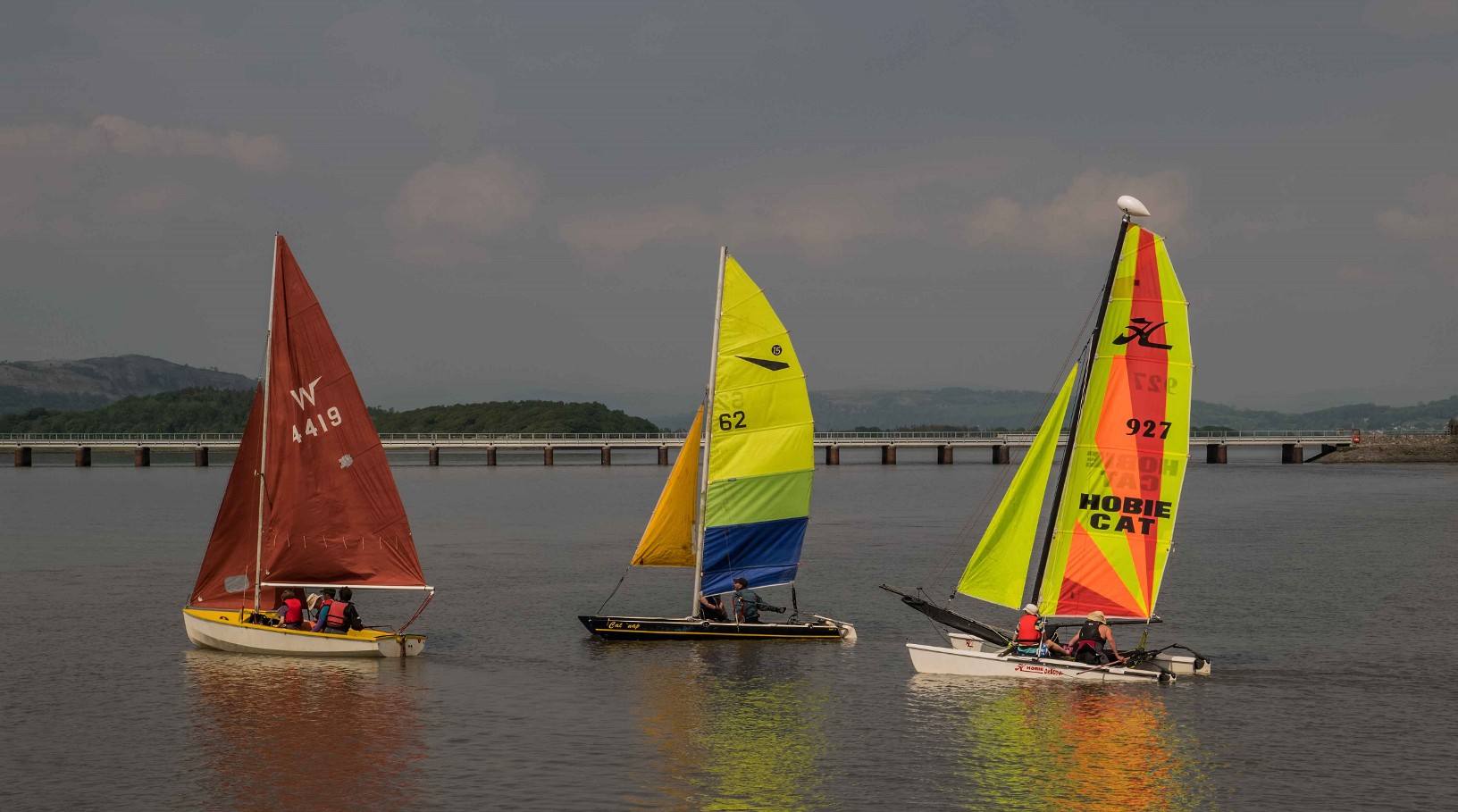 Cadet Programme
The cadet programme was set up last year, attracting around 30 children. It is estimated that 15% of children between the ages of 8 and 11 living in Arnside took part in the programme. A number of other children came from local holiday parks. The programme is free to join.
This year we plan to offer
a) Low tide sessions for beginners, where the water is shallow enough to stand up in
b) High tide sessions for improvers
As cadets get more advanced we plan running cadet races. We anticipate that by the end of the season some of the cadets will be amongst the best sailors in the club.
We will again be running the free four day RYA Level 2 Youth Course at Killington. At the end of the course cadets should be able to sail by themselves unaided in light wind conditions. Places are limited to 8 cadets so book early. Killington Sailing Club is located on the other side of the lake from the motorway service station near Sedbergh.
For more details contact arnsidesailingclubtraining@gmail.com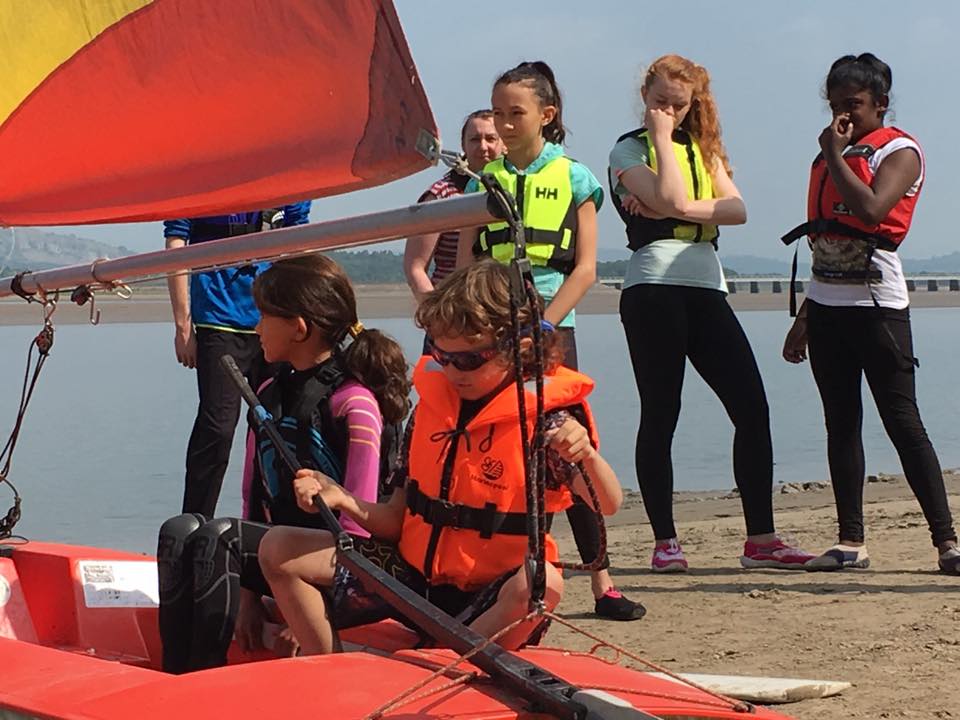 Adult Training
We are offering two day adult beginner and improver courses this year at Killington. The courses are also suitable for families wanting to learn together.
By using Killington we can offer a fuller days sailing than at Arnside without having to worry about the tides.
The courses will be taught by Kathryn Jackson, an experienced RYA instructor using a Wayfarer a stable family boat popular with sailing schools.
Kathryn can also offer ad hoc sailing lessons in the estuary by prior arrangement.
The two day courses cost £80 per person.
For more details contact arnsidesailingclubtraining@gmail.com
Women's Sailing Sessions
We are looking at running midweek women's sailing sessions in June and July to encourage more ladies to start sailing. Many sailing clubs, including Ullswater have set up "Ladies that Sail Sessions", which have been successful in getting more women to sail. Nationally Sport England wants to get more women into sport as fewer females take part in sport than men.
It is envisaged that the sessions will initially take place at low tide. The sessions should last one to two hours. They will be lead by Kathryn Jackson. There will be a small charge to cover the cost.
Link with Killington Sailing Club
As a result of the club becoming a group member of Killington Sailing Association so we can use their facilities for training, Arnside members are able to take part in Killington's Tuesday evening improver sessions and borrow their club boats, mainly Picos at other times. The Wayfarer which we are keeping at Killington is also available for use by Arnside members when not being used for training.
Their Tuesday evening improver sessions run from 6 pm to 9 pm during Sedbergh School term times. If you want to take part let Myles Ripley know, email mpr@sedberghschool.org. If you want to use one of their boats at other times or our Wayfarer contact Alasdair Simpson, email alasdairsimpson2@gmail.com. They have on line booking system for their club boats. Alasdair can book a boat for you and let you know the code to get into their dinghy park.
For more detail see Killington's website: www.k-s-a.co.uk
New Club Boats
As a result of successful funding bids the club is getting five new club boats. The boats are:
3 Hartley 10s – These are stable entry level training boats suitable for children. They can also accommodate an adult. The boat has a single sail.
2 Hartley 12s – These are double handed boats that are suitable for teenagers upwards. They come with a main sail, jib and spinnaker.

As well making a range of training boats, Hartley Boats also manufacture updated versions of traditional boats, including Wayfarers, Wanderers, Gulls and Ospreys. Though the company is based in Derby, Richard Hartley the joint Managing Director of Hartley Boats was born in Lancaster. As somebody from the local area he is keen to support the club.
Funding for the boats is coming from Sport England, Hadfield Trust, Arnside Silverdale AONB, Barnes Trust and Cumbria County Council
Sailing Tips
If you are sailing at Arnside it is best to sail towards Grange as the tide is coming in and be above the dinghy park as the tide is going out. If the wind is too strong for you head back to shore.
Quicksand
The Coastguards have asked us to remind people of the dangers of quicksand. In first three months of the year there were five quicksand rescues.
Pursuit Racing
We plan running pursuit racing this season, with the slowest boats setting off first and the faster boats having to catch them. This should lead to very close finishes.
Volunteers
The Club is dependent on volunteers to help run it. We need volunteers to help run the bar, crew the safety boat, maintain the dinghy park and support the cadet programme. Let us know if you want to help. If working with the cadet programme you will need DBS clearance. Training is provided where necessary. Last year we paid four people to go on a safety boat course. In March we ran a first aid course for 10 volunteers.
Membership Fees
If you have not already paid your membership fee, can we remind you that now is the time to pay up.
At just £60 for full membership, the club has one of the lowest membership fees in the country. Most clubs charge more than £100 per year with an additional dinghy park fee per boat.
Income from membership fees helps the club fund initiatives such as the cadet programme, training for volunteers, improvements to the dinghy park and overheads like insurance, which costs more than £1000 a years and safety boat maintenance.
To discourage people leaving their boat in the dinghy park once they have stopped sailing with us, this year we are introducing a returnable £60 dinghy deposit.
Alasdair Simpson, Sailing Secretary.